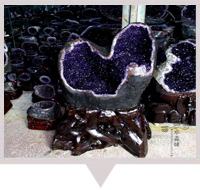 East Ocean Crystals is one of the most reliable and affordable crystals suppliers in Singapore. We specialise in selling 3 products – Meteorite, Moldavite and Natural Crystals!
As we have been in this industry for many years, a lot of our recurring customers have actually bought from us many times before. We are able to retain our existing customers because of the exceptional service that we've brought to them.
As one of the elite crystals wholesaler in Singapore, we endeavor to bring the best crystal and gemstones to our customers. We will also recommend appropriate gemstones or crystals to our customers to suit their target, price and overall happiness.
Being an established crystals supplier in Singapore, we also sell our products in bulk to you. If you are thinking of selling our products overseas and you would like to buy wholesale from us, do call us at 6842 8178 to find out more! East Ocean Crystals – Your Friendly Crystals Wholesaler in Singapore!